Golden Eye Designs
Vashti Etzel
"Empowerment. Ancestral Connection. Resilience. I enjoy building relationships, involving Indigenous peoples from the community to model my work, to share my knowledge and skill, to encourage, to build confidence and strength and to embrace sacred beauty."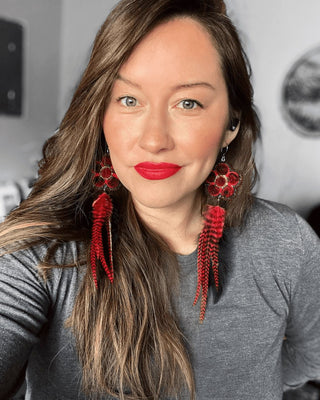 Vashti Etzel is a Shuhta/Kaska Dene woman and a member of the Wolf Clan. Born in Fort Smith, NWT, Vashti spent her childhood in Ross River, Yukon. Vashti grew up on the land with family and was immersed in stories passed down by her family. At sixteen, she dreamed of becoming a well-known artist, but she also had an interest in earth science. After graduating from high school, Vashti attended Mount Royal University with the intention of starting a business that would create on-the-land jobs for her people. The birth of her first child renewed her passion for art and inspired her to continue her late grandmother's legacy in traditional crafts.
Vashti draws creative inspiration from her grandmother and her Dene roots and is motivated by a desire to preserve her Indigenous heritage and culture. Her materials are sourced from the land and are often incorporated in statement jewelry. She enjoys supporting local trappers, elders, Indigenous families and artisans. She also enjoys involving her children to take part in these traditional skills of harvesting.