Dickson Fashion Designs
Heather Dickson
Dickson Fashion Designs is a harmony between Traditional and Modern Northern First Nation Fashion. A unique accessory that provides a connection to our grandmothers and promotes pride in where we come from.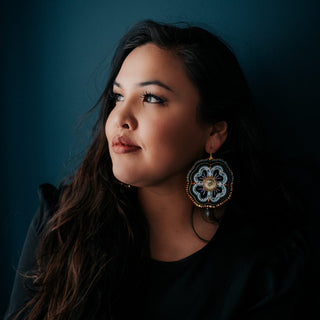 Born and raised in the Yukon, Heather is Tlingit from the Carcross Tagish First Nation and Nuxalk Nation from Bella Coola, BC. Ms.Dickson received her diploma in Fashion Design at the International Arts Institute of Vancouver in 2010, but her training began many years earlier as she has been watching and learning the intricate art of beading since she was a child.
Surrounded by rich first nation culture her whole life, she was always eager to learn traditional sewing and beadwork. She is inspired by women from all over the North which has resulted in teachings from Indigenous artists and storytellers, from the top of the Yukon to the bottom. 
Ms.Dickson has found a beautiful balance between her traditional skills and her artisanal skills and takes great pride in combining them within her business. This artistic balance provides her with a strong connection to her first nation heritage and keeps her rooted to her cultural identity in a modern world. The result is an aboriginal product that is respectful and inspired. 
Ms.Dickson is outgoing and enjoys meeting new people. She especially enjoys giving back to her community while promoting her culture and inspiring others to embrace theirs. She is passionate about passing down her knowledge to the next generation of Indigenous artists.