SHE WAS A FREE SPIRIT
Erica Joan Donovan
She Was a Free Spirit blends modern and traditional influences one bead at a time. Through this process, Erica seeks to spread healing joy while celebrating the individuality of her clients.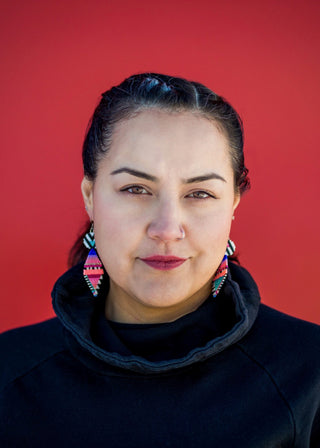 Through unique jewels embodying her history, Erica Donovan expresses her deep-seated love for her Inuvialuit culture, her community on the shores of the Arctic Ocean, and the vast wilderness that surrounds it. As a fashion enthusiast with an innate sensitivity to colours, she blends modern and traditional influences one bead at a time using the brick stitch technique she adapted into her colourful signature style. In doing so, she seeks to spread joy, instill hope, and help others heal. You can feel her energy imbued with love and kindness through these earrings showcasing the heavens above Tuktoyaktuk, her native village that lives in harmony with nature under the infinite polar sky. The designer sought to portray this expanse on her jewel, both honouring her people and inspiring its wearer.
Erica has been a featured artist at Indigenous Fashion Week Toronto in 2018 and sold out at IFWTO 2020. Her earrings were on display at Paris Fashion Week in 2019. She took part in the 2021 Earring show with BC Craft Council and was a member of the EntrepreNorth Fashion Cohort. In July 2022, she was announced as the Indigenous award winner for Simons Fabrique 1840 for her Tuktoyaktuk Skies Design. More recently Erica and six other designers have been invited by Indigenous Fashion Arts to attend the White Show in Milan Italy to showcase her brand during Fashion Week. This is the first Indigenous group to showcase at this fair.