Mésdzįh Eskiye (Owl Boy) Designs
Cohen Quash
"I am beading to become a First Nation fashion designer. I promise to keep my tradition alive. I'm coming for what my grandparents were denied."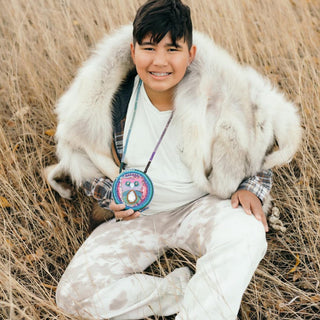 Mésdzįh Eskiye (Owl Boy) Designs @mesdzih_eskiye_cjrq is Cohen Quash, a 14 year old designer from Watson Lake, Yukon. Cohen's business name has a very special meaning to it. Mésdzįh (owl) is in the Kaska language to honour his mother's grandma, Barbara Morris. Eskiye (boy) is in the Tahltan language to represent his father's grandma, Pansy Forsberg. Both grandmas are matriarchs of their families and are a huge part of Cohen's life. Both are incredible beaders and both are strong Kaska and Tahltan women.
Cohen picked up his first needle at 11. He was always watching his great grandma Pansy bead. He asked her if she could teach him how to sew and she said yes. She asked him to go and pick out his colours and come and sit by her. The rest is history. 
Cohen's pieces currently sell for $700 - $2000 and are rarely available. He is also the youngest artist ever to have their work accepted into the Yukon Permanent Art Collection, another huge accomplishment for him!
The idea for Cohen's business name came from his great-grandma Pansy. His late great grandma Barbara Morris loved Owls. She always found them so fascinating. They were her special animal, her messenger and there was a magical connection. What is so special about Cohen's name is he will transition from boy to man. It will grow with him.
Cohen's Work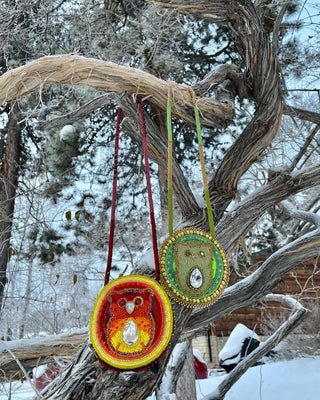 "Some First Nation designers that I look up to are Kaylyn Baker @nanamomma and Heather Dickson @dicksondesigns. Heather's work is timeless beauty. It is very traditional combined with today's fashion. Kaylyn's work is so inspiring and colourful. What's so special is that she gives each of her colours their own rainbow."
Cohen is also heavily influenced by American Indigenous model Quannah Chasinghorse-Potts. She is the first Indigenous model to be invited to the MET Gala and is an activist and advocate for Indigenous people all over the world and for the environment. Cohen has high hopes that we'll see his designs at the MET someday too.
"I want to build my business and pay for my own way to Paris. I want to live there and become a fashion designer. I want to see my work walk down a runway. When I was 10 I told my mom I knew I wanted to be a fashion designer. I owe this to my great grandma Pansy Foresberg because she took time to teach me and taught me what I know. I want to bring this to the next level and make it worth it. I want to make her proud."